Dentist in New Rochelle, NY
All our professionals at Quaker Ridge Dental maintain the highest levels of accreditation and pursue ongoing education to stay abreast of the latest trends in dentistry.
Glen M. Applebaum, D.D.S., PC
Glen M. Applebaum graduated from Rensselaer Polytechnic Institute in 1978 receiving a Bachelor of Science Degree in Chemistry. He is the recipient of the William Pitt Mason Prize and Class of 1902 Research Prize both awarded by Rensselaer. He received his D.D.S. degree from New York Univeristy College of Dentistry in 1981 and completed a one-year residency program in General Dentistry at New Rochelle Hospital Medical Center in 1982.
Dr. Applebaum is a member of the ADA, Dental Society of the State of New York, and Ninth District Dental Society. He serves as both an implant prosthetic speaker for Zimmer Dental and Adjunct Instructor at the Medical University of South Carolina Dental School. Dr. Applebaum achieved Fellowship status in the International Congress of Oral Implantologist (ICOI) and Mastership status in the Implant Prosthodontic Section (IPS) of the ICOI, and has served as Vice Director of the Membership Committee of the IPS. He also served as prosthetic advisor to the Westchester Implant Study Club from 1995-1997. Dr. Applebaum was the recipient of first place honors in table clinic presentations at the annual IPS meeting in 1999, and he has been published in the Canadian Dental Journal Oral Health, the Journal of Nuclear Medicine and Dental Surgery Products.
Dr. Applebaum maintains a practice in general dentistry in New Rochelle, New York, has been involved with implant dentistry for 30 years and has been presenting seminars for restorative dentists since 1995.
---
Jacqueline Nussbaum D.D.S., M.S. - The Periodontist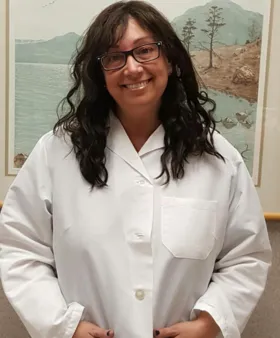 Dr. Jacqueline Nussbaum graduated from Columbia School of Dental Medicine to receive her DDS in 1995. She went on to receive her master's in Oral Biology and Certificate in Periodontology from Columbia in 2000. Dr. Nassbaum is a member of the American Academy of Periodontolgy as well as a member of the North East Society of Periodontology. She practices all aspects of Periodontics and takes pride in the care and treatment of her patients' overall health and needs.
Dr. Nussbaum lives on Long Island and enjoys spending time with her husband and three children.
---
Staff Members
Marissa Reyes - Office Manager
Clarissa Reyes -Administrative Assistant
Miriam Cosme - Administrative Assistant
Nya Jackson - Dental Hygienist
Susan Vaccaro - Dental Hygienist
Mara Gialanella - Dental Assistant
Lornel Collens - Dental Assistant